OPERATION ROUND UP
Members of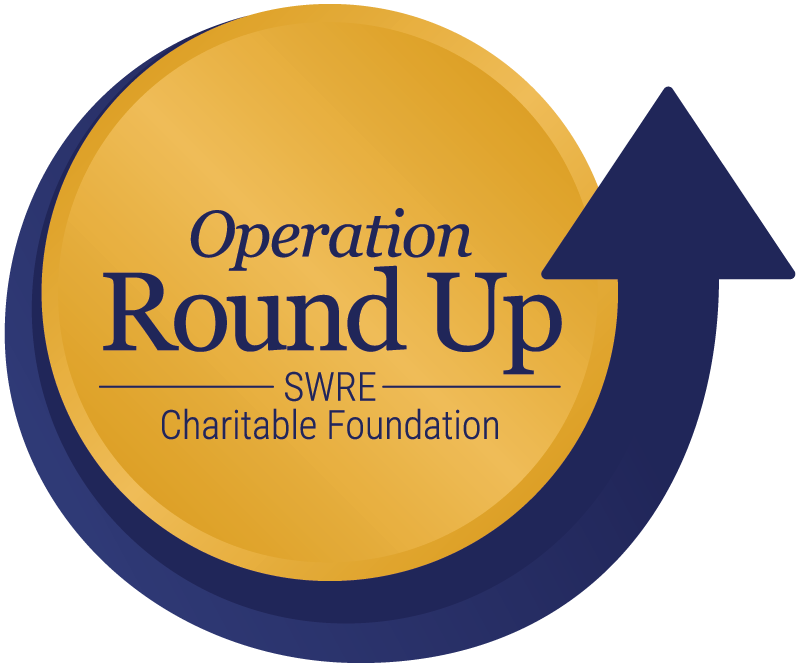 Southwest Rural Electric are enrolled in Operation Round Up, SWRE's Charitable Foundation, giving them the opportunity to help out their neighbors. By "rounding up" your electric bills to the nearest dollar amount (an average of 50 cents per month or $6.00 per year), funds accumulate over the year and are distributed to local charities and individuals who meet grant requirements. The program is administered by the Operation Round Up Board of Directors made up of community leaders who establish the policies for granting Operation Round Up funds.
Operation Round Up funds stay right here in the SWRE service area. Funds are never used for political or administrative purposes. Operation Round Up does NOT help individuals or families with electric bills. The program serves the needs of five categories of assistance: communities, education and youth, senior citizens, emergency assistance and individuals in need.
Your contributions to Operation Round Up are tax deductible and should be itemized on your December electric bill. If you would like to opt out of the Operation Round Up program, please call SWRE at 1-800-256-7973.
ROUND UP+
Those who would like to donate more than the rounded-up change from their monthly bill can participate in Round Up PLUS. With Round Up PLUS, members can choose the amount they would like to donate in addition to the amount already being rounded up each month. Non-members who wish to benefit the community can also donate to Round Up PLUS. Call SWRE at 1-800-256-7973 to become a Round Up PLUS patron!
GRANT APPLICATIONS
Grant applications will be open and accepted August 1 – October 1 annually. Nonprofits, organizations, schools, civic groups, individuals, etc. in the SWRE service area that meet grant guidelines are eligible to apply.
View a Sample Grant Application
Altus Lions Club
Altus Salvation Army
Cyclone Education Foundation
Frederick Arts and Humanities Council
Frederick Public Schools Band
Grace Child Development Center
Great Plains Literacy Council
Jackson County EMS District
Operation C.A.R.E. Ministries (Jackson County)
SWOK Community Action Group Head Start
SWOK Community Action Group Safe Haven
Tipton Chamber of Commerce
Tipton Public Schools first grade
Tipton Public Schools second grade
Town of Tipton
Vernon Meals on Wheels
Vernon Salvation Army
Warren Senior Citizens Center
Wilbarger County Child Welfare Board
Wilbarger Humane Society
TOTAL AWARDED = $57,258
First Presbyterian Church of Vernon (Cupboard by Grace Food Pantry)
First United Methodist Church of Vernon (Rainbow Room)
Northside ISD Theater and OAP Club
Vernon Meals on Wheels
Wilbarger County Child Welfare Board
Wilbarger Street Church of Christ Food Pantry & Clothing Closet
Altus Lions Club
Frederick Public Schools (Band)
Grace Child Development Center
Great Plains Literacy Council
Jackson County EMS
Navajo FFA Shooting Sports
Operation C.A.R.E. of Altus
Salvation Army of Altus
Southwest Oklahoma Community Action Group Head Start
Tillman County Food Bank Foundation
Tillman County EMS District
Tipton Chamber of Commerce
Tipton Public Schools (5th Grade Science)
Tipton Public Schools (High School Yearbook)
TOTAL AWARDED = $51,930
Tipton Public Schools
Southwest Oklahoma Community Action Group
Altus Public Schools Child Nutrition Program
Tipton Volunteer Fire Department
Boys & Girls Club of Vernon
Salvation Army of Altus
Southwest Baptist Churches Assembly
Great Plains Literacy Council
Tipton FFA Booster Club
Tillman County EMS District
Tipton Chamber of Commerce
Cupboard by Grace of Vernon
Tillman County Historical Society
Salvation Army of Vernon
Northside FFA
Warren Senior Citizens
Operation C.A.R.E. Ministries of Jackson County
Friends of Snyder Public Library
TOTAL AWARDED = $49,050
Salvation Army of Vernon
Odell Volunteer Fire Department
Punkin Center Volunteer Fire Department
Friends of Foard County 4-H
Tipton Area Senior Citizens
Tipton Public Schools
Grace Child Development Center
Operation C.A.R.E. Ministries of Jackson County
Southwest Community Action Group
Southwest Baptist Churches Assembly
Boys & Girls Club of Vernon
Vernon High School Bass Team
Navajo Elementary (4th grade)
Cupboard by Grace of Vernon
Great Plains Literacy Council
Tipton 4-H Club
Tipton Chamber of Commerce
Tillman County Historical & Educational Society
Warren Senior Citizens
Jackson County 4-H Shotgun Shooting Sports
Navajo FFA Shooting Sports
TOTAL AWARDED = $40,000
Tillman County EMS District
Frederick High School Robotics
Tillman County Historical Society
Operation C.A.R.E. Ministries of Jackson County
Snyder Public Schools Music Program
Tillman County Food Bank
Mountain Park Volunteer Fire Department
The Stephen E. Booker Foundation
Frederick Arts and Humanities Council
Crowell Volunteer Fire Department
TOTAL AWARDED = $25,000